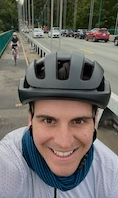 Hey! I'm Charlie - from Vancouver, Canada. Nice to virtually meet you!
Several years ago I quit investment banking to write code and build (financial) software products.
Presently, I spend my time creating ML / quantitative investing software, skiing / biking in the mountains, and hanging out with my girlfriend and dog.
Things I've Done
Things I Wrote
Things I'm Making
landing_boi. Rails engine for configurable micro-SaaS landing pages.
Things I Made
Clientelify. Web app to schedule text message reminders to reduce no-shows. No longer actively developed.
terra_boi. Ruby / Rails gem for AWS infrastructure provisioning and deployment.
The DEVpreneur Podcast. A podcast for technical entrepreneurs.
Platforms I Use
Twitter. Where I sporadically share short-form thoughts and pursuits.
My Blog. Where I share long-form thoughts and pursuits.
GitHub. Where I deposit spaghetti-code.
LinkedIn. Where I humble-brag about professional milestones.
My Newsletter. Where I share articles, podcast episodes, and project updates.
Strava. Where I share road and mountain bike rides.